Injection Valve Bagging Machine
---
NVL
The NVL is one valve bagging machine for universal use. The main advantatge for the user is the possibility of bagging with the same installation as granulated products as fine ones.

The NVL allows to do complete lines of weighing and bagging, inclusively palletizing with very adjusted cost.

The NVL allows to bag products such as: pellets, fluors, crystalized sugar, fine salt, PVC in dust, morters, mineral compost, chemicals, etc ...
Advantatges:
High bagging production for difficult and different products.
Mantains the characteristics of product ( there are no pieces in movement).
Minimanizes residues of product.
No loss of time with the change of product.
Very quick cleanning.
Easy and simple use.
Very poor corrosion of the machine.
Very few dust emission during the bagging process.

Conception:
In the conception and development of the injection valve bagging machine NVL, we have taken into account the principles and experience in the existing bagging process, specially:
Reduced number of piezes with corrosion:
Allows a bagging process with a minimum cost of maintenance. Only the filling spout, the bags fastener, and the bags support if there is a compactor of product, are in movement. The rest of mechanic parts are fixed.
Easy using:
Thanks to the using of the filling spout type "ducks's beak", started by a pneumatic cylinder the placing of valve bag can be done very easily. Only one operator is needed to manage a double installation, with a production until 1100 bags / hour. Also, with the same adjusting it allows to bag as granulated products as fine ones. The operator only will have to select the new product to bag.
Without any degradation of product:
The products to bag don't suffer any important friction.
The transport of product is done using compressed air as accelerator.
No dust:
Thanks to its special concept, the filling spout type "ducks's beak "the tighness is improved through a separated circuit of air to expulse the air aspirated from bag and collected by the dust filter.

Combination possibilities:
For an optimised automatization of the installation NVL, it is previewed one automatic bags placer with sotre-house for empty bags.
One evacuation system for full bags and different systems for palletising can complete the bagging process.
The high realiability of the selected componends allow a perfect automatization.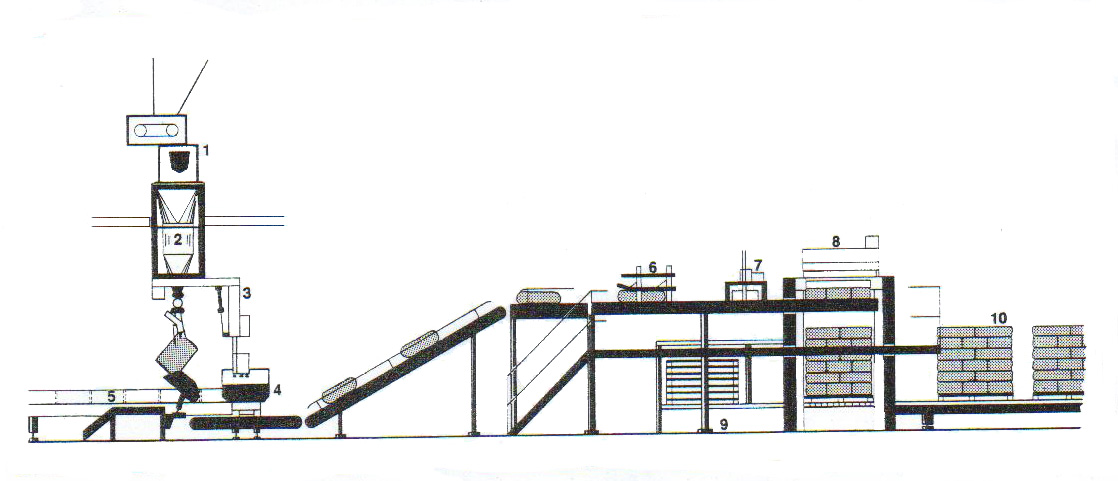 Examples of production:
Production depends on the characteristics of product and the bagging line:
Flours of animal feed and compost
600 kg/m3
until 450 bags/h de 50 kg.
until 500 bags/h de 25 kg.
Pellets – granules
650 kg/m3
until 400 bags/h de 50 kg.
until 450 bags/h de 25 kg.
Dusty and fine products: PVC
| | |
| --- | --- |
| 520 kg/m3 | until 500 bags/h de 25 kg. |
Refined sugar
| | |
| --- | --- |
| 800 kg/m3 | until 520 bags/h de 50 kg. |
Fine salt
| | |
| --- | --- |
| 900 kg/m3 | until 550 bags/h de 50 kg. |
Technical Characteristics:
Bags
Valve bags made of paper, plastic, and PP laminated.
Valves
Inner valve.
External valve, by request.
Valve's width
From 115 until 180 mm.
Bags dimensions
Width 450-650 mm.
Length 550-950 mm.
Other possible dimensions by request.
Power supply
Consumption of 7 kW.
Working pressure
6 bars
Air consumption
75 N/l bag (with bag not inflamed )
Level of noise
Around 80 dB
---
| | | |
| --- | --- | --- |
| | | Download brochure |
Copyright © 2018, by Power Robotics, SLU All rights reserved.