IVBPH - M4

---
Inner Valve Bag Placer
Our Bag Placer IVBPH can be used with combination of rather all bagging machines for horizontal valve or slightly inclined.
This Bag Placer is mounted floor level, without modify the bagging machine.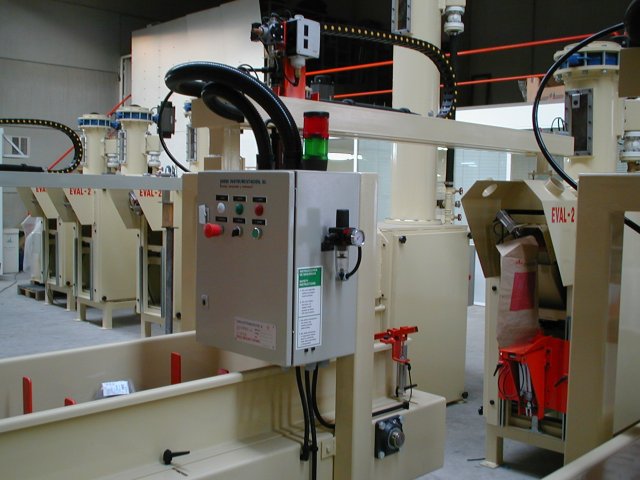 This system is based in a new intelligent machine philosophy and use the most cool technology. Engineering carried out with integral standard components.
Yet it is not enough that a machine works correctly, also it has to work with security and completely without fault tolerant.

OPERATION:
The Bag Placer IVBPH are the fruit of the evolution and accumulated experiences obtained with the construction and installation of the automatic bag placers in different industrial sectors.
The system is composted by an equipped applicator with vacuum vents that catches the valve bag; a pneumatic presser that opens the bag valve and a clamp pincer to secure place of the bag in the filling mouth and guarantee the continuos control of the bag for all the process. An horizontal displacement arm is dedicated top place the bag in the bagging machine. The installation drive is through electric and pneumatic way. A vacuum pump of vanes feeds the necessary low for the vents.
The applicator is combined, in standard version with a bag store M4. This store has capability for a few 300 empty bags and allows its recharge without non stop periods.
Are possible other capabilities by request. The store is able to be filled for bags with valve on the right or left. The system is without maintenance.
Possibility of codify, tagging with self adhesive tags or mark empty bags.
TECHNICAL DATA:
Output:
Since 600 bags/hour for just one applicator.
Possibility of mounting some applicators in battery, for bigger outputs.
Kind of bag:
Inner valve bags of paper, plastic or PP-tissue.
According to the DIN 55460, form B1
Bags:
Paper, plastic or laminated PP-tissue.
Bag dimensions:
Wide since 650 mm.
Length since 950 mm.
Valve's wide of 110 to 150 mm.
Other dimensions by request.
Store capability:
number of bags length
Since 375 3000 mm
525 4000 mm.
750 5500 mm.
1200 8000 mm.
Compressed air:
Operating pressure 5 - 6 Kg/cm2
Air consumption 29 Nl for bag.
Electric power:
Main power, III 220 / 380 VAC 50 / 60 Hz
Control circuit 220 VAC / 24 VDC
Total power installed 2,5 Kw
---
| | |
| --- | --- |
| | Download brochure |
Copyright © 2018, by Power Robotics, SLU All rights reserved.