AR_MIX

---
ARROW MIXER
Our AR_MIX mixers can be used practically in all sort of industrial sectors, where is needed a production of compounds beginning from other compounds more elemental, to summarize:
Dry products mix (powders, pellets, fibres, …).
Dry and liquid products mix (greases, additives, …).
Liquid and pasted products mix.
Aeration of products.
Mechanical fluidification of powder products.
Process reaction.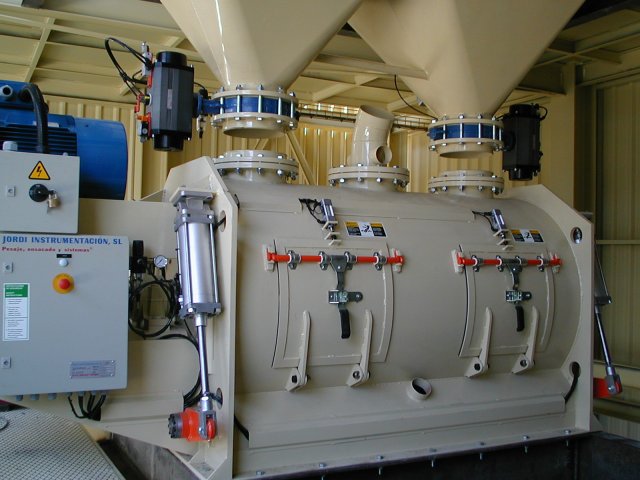 WORKING:
AR_MIX mixers are the fruit obtained through a long time of experience making and installing mixing machines in all sort of industrial sectors.
AR_MIX mixers work up the mechanical fluidification set of mixing products. Just to do it, rotating arrows are used inside of the mixing chamber, which brings about a tridimensional projection of the particles of elements to homogenize.
When the mixing process is rated can be equipped the mixing picker of elements machine, which help to obtain a perfect homogenized mix, also in constituents of different density and granulometrics.
The mix quality is so high that are obtained mixings of elements about rates of 1:10000.


GENERAL CHARACTERISTICS:
Taking into account the product that we want to mix are chosen different materials for the mixing chamber's construction. Carbon steel, stainless steel, special laps, …
Characteristics:
Cylindered mixing chamber.
Mixing elements based on arrows, with half-arrows and lateral scrapers.
Inlet valves, according to the needs.
Survey gates with a safety integrated system.
Outlet valve, through throttle or whole aperture with two gates in V.
Motor driver with transmission by belts and planetary reducer. Safety fuse .
External bearings, with a labyrinth seal system and a pressurized system with compressed air.
A protector for the transmission.
Exhaust system integrated in the machine.
Support frame for the tie line with discharging hoppers, which reduce the height of the whole plant.
---
| | | |
| --- | --- | --- |
| | | Download brochure |
Copyright © 2018, by Power Robotics, SLU All rights reserved.