Cartesian Robot Palletizer
---
RC 600
Takes part of a new family of manipulators / robots for palletizing, developed to satisfy the hight and medium requeriments of production lines, since 400 to 1200 bags / hour. With the maximum rubustness, efficiency and economy. According to most actual demands of automatization it is intelligent, modular and adjustable to the particular needs of each production line.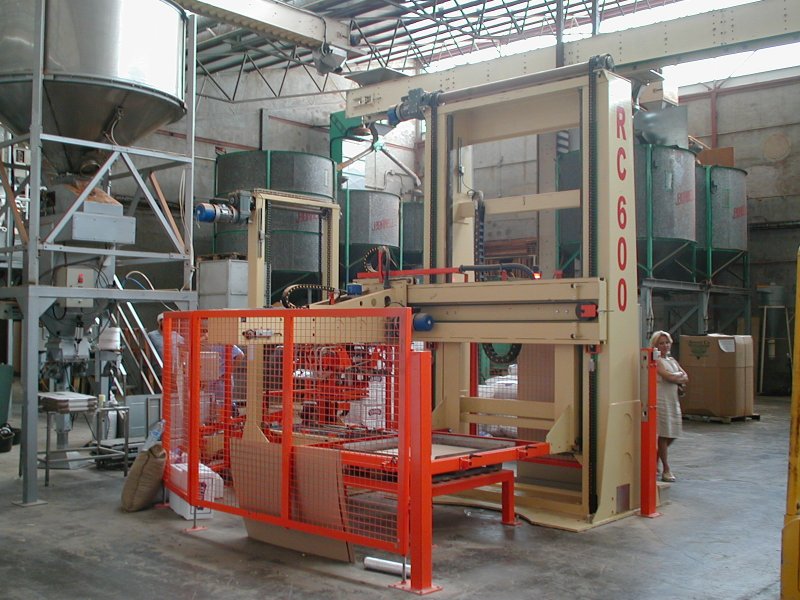 Video
In this kind of machine, a the arms are moved through three Cartesian Axles and rotate on vertical axle. The bags are caugh one by one from the rollers conveyor to the designed point by the control program. This process has no limit for the the shape of the bags, the degree to which they are filled, or by the type or nature of the materials.

The utilisation of a PLC control system permits the complete automation of the operating movements and the automatic regulation of the position of the mechanical parts which move the bags and the pallets.
The bag dimensions, the number of bags by layer and the coordinates at which they are to be placed, as well as the pallet dimensions can be recorded in the memory, and all this data can be allocated with a program number.
On simple recall of this program number through the interactive screen allows the change of the memorised pattern and automatic adjustement of the machine. This system simplifies the programming and reduces the configuration time.

The intuitive commands in the tactile screen make easier the programing and adjustment of the robot, also, gives a detailed information of all the incidences with the diagnostics program.
The RC 600 Robot palletizer comes complete with safety devices compliant with current EC standards.

TECHNICAL DATA
Maximum speed: 450 - 750 b/h, depending on the number of bags per layer
Workable bag weights: from 10 to 50 kg
Minimum pallet dimensions: 800 x 1200 mm
Maximum pallet dimensions: 1100 x 1400 mm
Maximum palletized load height: 1800 mm, including pallet height
Operating system: PLC
Power supply: 380 V- 50 Hz / 440 V-60 Hz

OPTIONS
Stainless steel finish of the trapdoors.
Parts in contact with the bag (rollers, plates, etc.) in stainless steel.
Dispenser for placing cardboard sheets on the pallets.
Possibility of working with pallets higher than 1800 mm.

For non-standard pallet dimensions, the technical feasibility of the plant must be confirmed.

NOTE: The information listed in the chart is strictly indicative and will depend on the specific features of each machine.
---
| | | |
| --- | --- | --- |
| | | Download brochure |
Copyright © 2018, by Power Robotics, SLU All rights reserved.